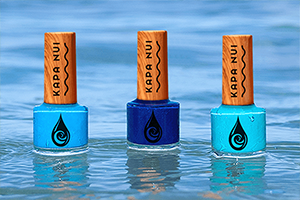 New to the world of non-toxic nail polish?
We want to help.
If it's non-toxic, does it actually work? Does it stay on? Does it last long?
Yes, yes and yes! The "magic" is in our patented Base & Top Coat Sealer. Among our diverse customer base, we are honored to serve Iron Workers, Farmers, Nurses and other customers in occupations that require heavy wear-and-tear on their hands. When using our Base & Top Coat with our polish, customers across the board report chip-free coverage for an average of 10-12 days. You may read all their reviews here.
Is this polish safe for pregnant women? Kids?
As a completely water-based polish, free of ALL toxins (not just 3, 5, 7 or 10-free!), our products are safe for everyone. Pregnant women, cancer patients, kids, babies, dogs, cats, the environment, you name it.
That's all great, but where should I start?
If you are new to Kapa Nui, we recommend starting with our Kapa Nui Starter Set (pictured below). This set includes all the essential products in our revolutionary 3-step, 2-formula system: our Base & Top Coat, Polish Remover, and Polish - any color of your choice.
Healthy Nails = Happy Nails:
Kapa Nui Reviews
"The best nail polish ever!" ⭐⭐⭐⭐⭐
"I discovered Kapa Nui polish while searching for a safer alternative to conventional polish. I have severe allergic reactions to regular polish - my eyes swell shut and I get hives all over my hands. I had tried several "safer" 5-free, 7-free polishes, but I always got the same allergic reaction. Kapa Nui was my last resort. I made a promise to myself that if it didn't work, I was just going to be done painting my nails. When I painted my nails for the 1st time with Kapa Nui, I expected to wake up with my swollen face...but I woke up and was completely fine. I wanted to be sure before leaving this review, so I painted my nails 2 more times...I was still fine every time. I'm sorry for the longest review ever, but I want everyone to know that not only are these polishes beautiful, but they are also so much safer and better than other polishes! " - Olivia
 by Colby Sameshima