Apply all steps in thin layers allowing to dry 60 seconds between coats:
Step 2: Apply the Color coat in 1-2 layers
Step 3: Re-apply the Base & Top Coat Sealer.
Ingredients: Water, acrylates emulsion, mineral pigments

(may contain red and/or violet lakes, ultramarine blue, and/or titanium, chromium "hydroxide", and iron oxides)
Notes: acrylates emulsion: there are no plastic microbeads or PFA's "Per-and polyfluoroalky substances" learn more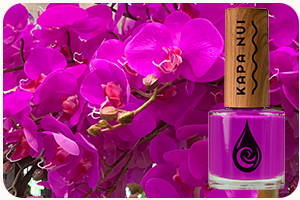 What many people know is that Hilo is the orchid capital of the world and the iconic image is of the deep rich purple orchid. For me Hilo orchid represents the life well lived of someone I cared for. She was a vibrant, compassionate high powered professional in the legal world. When I met her she was diagnosed with late stage ovarian cancer. Recognizing her time was limited she subsequently decided to leave her profession and follow her life's passion of growing orchids. She went on to make just as large an impact on the orchid world of Hilo and create award winning orchids, deeply involve herself in the support of the orchid growers community, She thrived in this world of life and color for another 7 years and felt she had been given a blessing to refocus her life.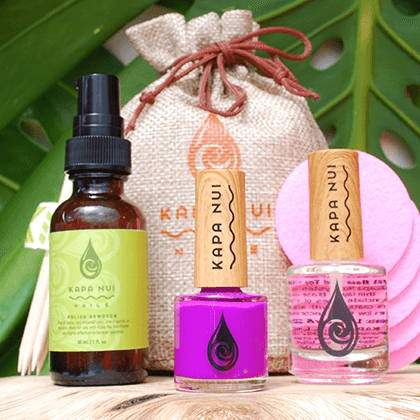 Try our Starter Set and save
Everything you need for gorgeous nails!
Value Set contains: Hilo Orchid Polish, Base & Top Coat Sealer, Travel Remover 1oz, Re-usable remover pads, Manicure sticks, Burlap Travel Bag
$39.50 value for $35.00
A REVOLUTIONARY NAIL CARE SYSTEM
FOR LONG LASTING GORGEOUS NAILS
Apply all steps in thin layers allowing to dry 60 seconds between coats: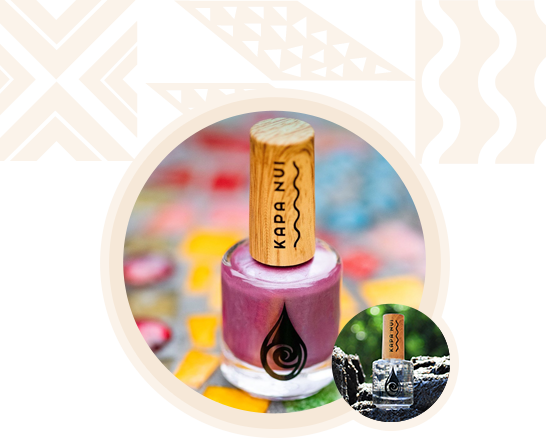 Step 2: Apply Color coat in 1-2 layers. Re apply Base & Top Coat
Finishing Coats Matte or Shine
When applied with Kapa Nui Base & Top Coat Sealer our polishes must be removed with Kapa Nui Remover which will also easily remove lacquers. Acetone will not remove our polish layers.
We know the damaging effects of nail polish and we want to change that! Our non toxic nail polish is all free of toxins and free of harsh chemicals. Our Non toxic nail polish is long lasting, chip resistant and gives you that salon look you have been waiting for.
People deserve a nail polish that is body safe and planet safe. Vegan and cruelty free that is virtually odorless.