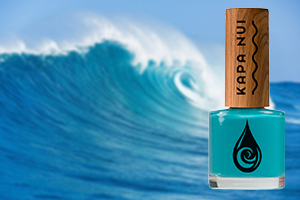 Ocean Collection in honor of World Oceans Day!
"The ocean covers over 70% of the planet. It is our life source, supporting humanity's sustenance and that of every other organism on earth." (The United Nations)
Be part of the change to save our oceans from toxic chemicals and plastics - with planet-safe nail polish. Our products pose no harm to you or the environment (land, sea, or air.)
Healthy Nails = Happy Nails:
Kapa Nui Reviews
"Thank You!!!!!" ⭐⭐⭐⭐⭐
"I LOVE THIS NAIL POLISH!! I feel like myself again cause I stopped using conventional nail polish 💅 which is marked an 8 out of 10 on the toxicity scale according to EWG Healthy Living app...Kapa Nui is listed as a 2!!! I can use this and feel good about making a healthy choice. The test with natural nail polishes is how long it lasts - usually it doesn't. Kapa Nui passed the test!! It lasted 7 days with no chips, and I was constantly washing my hands and dishes. Thank you Kapa Nui for giving me the best healthy choice and making me feel beautiful 🙏❤️💅🥰 "
- Beata, 5/3/2021
 by Colby Sameshima