Apply all steps in thin layers allowing to dry 60 seconds between coats:
Step 2: Apply the Color coat in 1-2 layers
Step 3: Re-apply the Base & Top Coat Sealer.
How can you tell Kapa Nui Nails is THE healthiest choice in Nail Care Products?
Only 3 toxin-free ingredients

with no other hidden chemicals; they are virtually

ODORLESS

. Can other 'Non-Toxic" nail polishes claim the same?
Ingredients: Water, acrylates emulsion, mineral pigments:
(may contain red and/or violet lakes, ultramarine blue, and/or titanium, chromium and iron oxides)
Notes: acrylates emulsion: there are no plastic microbeads or PFA's "Per-and polyfluoroalky substances" learn more
Made in Hawai'i by Medical Professionals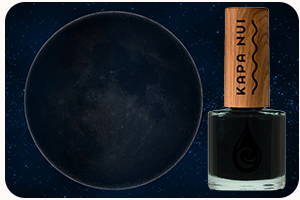 For those who may be less familiar, a New Moon occurs when the sun, moon and earth are aligned, with the sun and earth on opposite sides of the moon. There is no light comparable to that of the new moon, with its graceful muted crescent against a backdrop of deep, encompassing black. The lunar calendar, along with the starry skies it accompanies, provides a natural guide for both ancient and modern day Hawai'i farmers and voyagers.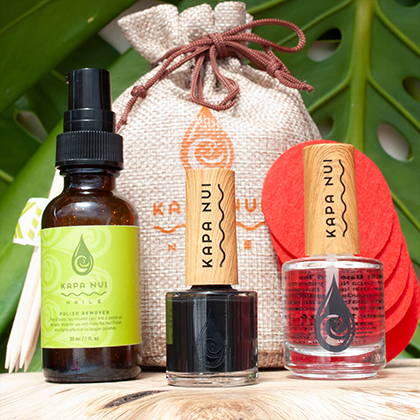 Try our Starter Set and save
Everything you need for gorgeous nails!
Value Set contains: New Moon Polish, Base & Top Coat Sealer, Travel Remover 1oz, Re-usable remover pads, Manicure sticks, Burlap Travel Bag
$39.50 value for $35.00
Kapa Nui Nail Care products give you the same salon look without the dangers of typical salon polish. Explore the many benefits of this nail care system, including long wearing, chip resistance with no harmful odors. Our truly non toxic nail polish products give you great looking nails while protecting your health and wellness.
A REVOLUTIONARY NAIL CARE SYSTEM
FOR LONG LASTING GORGEOUS NAILS
Apply all steps in thin layers allowing to dry 60 seconds between coats: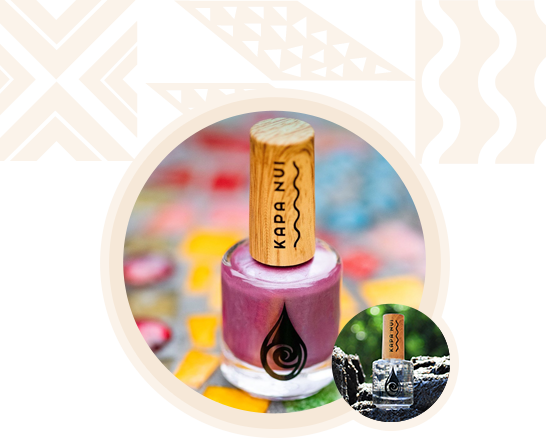 Step 2: Apply Color coat in 1-2 layers. Re apply Base & Top Coat
Finishing Coats Matte or Shine
When applied with Kapa Nui Base & Top Coat Sealer our polishes must be removed with Kapa Nui Remover which will also easily remove lacquers. Acetone will not remove our polish layers.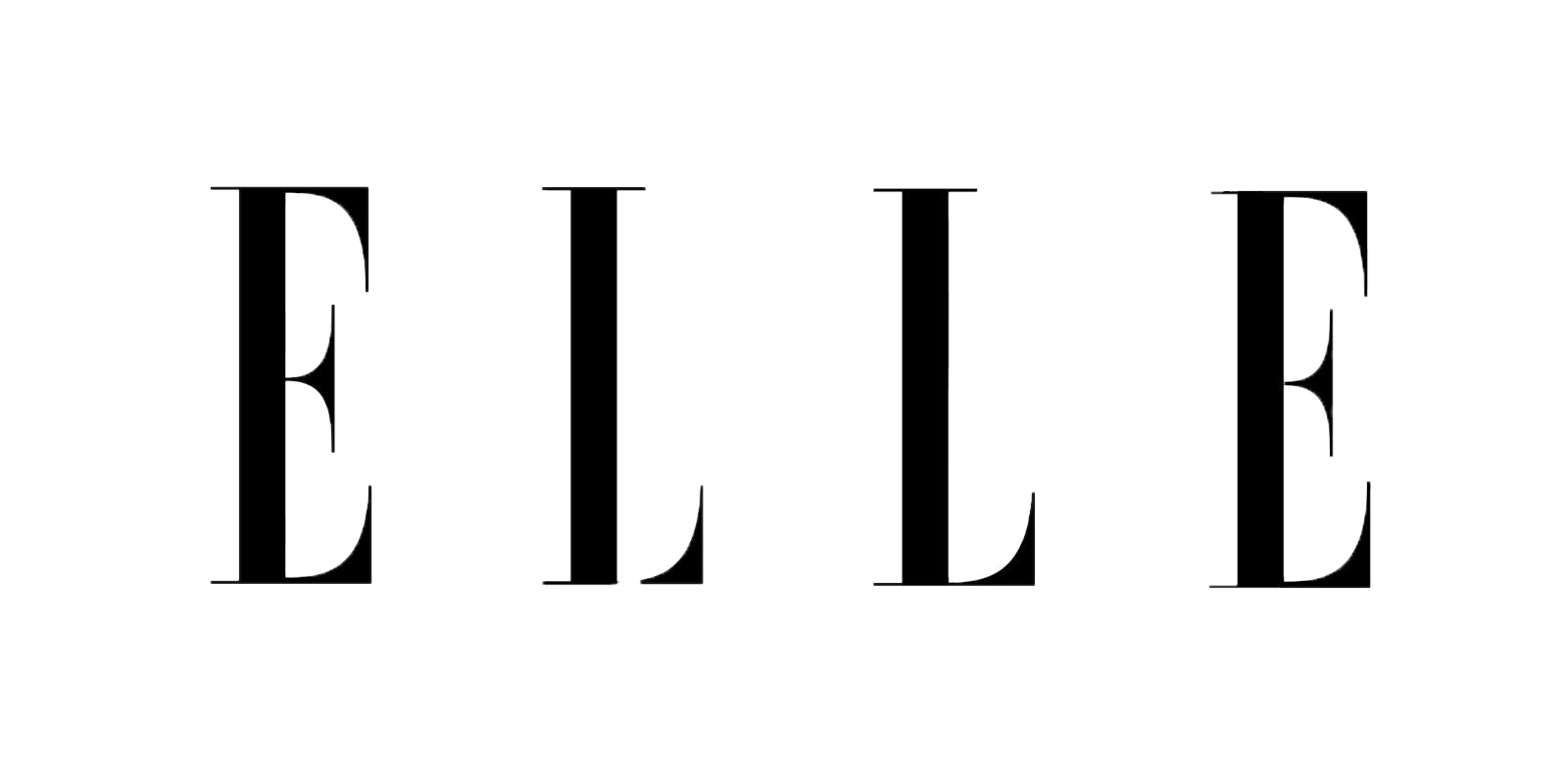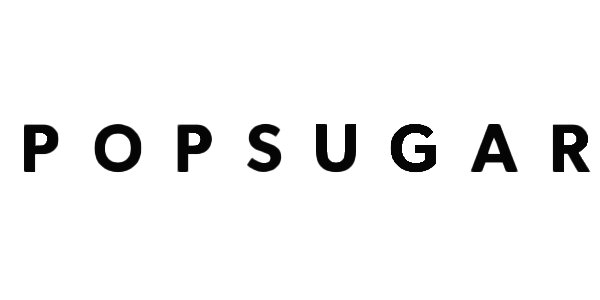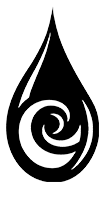 Not Ready to Go Completely
Toxic-Free Just Yet?
HERE ARE SOME HEALTHY ALTERNATIVES TO GET STARTED
Start integrating healthier choices into your mani and pedi regimen with our non-toxic products designed for ALL nail polish lovers ~ including lacquers. For Natural Nails Only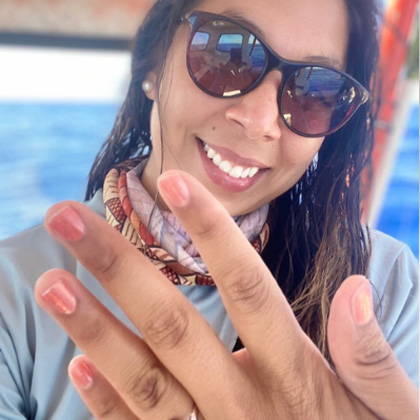 REPAIR DAMAGED NAILS NATURALLY
Many suffer from nail damage due to toxic nail polish, chemical exposure or just from aging. But most dry, brittle, or cracked nails does not have to be permanent. Our Nail Repair & Strengthener is a breakthrough 3-in-1 formula that hydrates, restructures and remineralizes your nails.

If your nails are weak, brittle, dry, unable to grow, chemically damaged, or have naturally occurring ridges, then this is for you!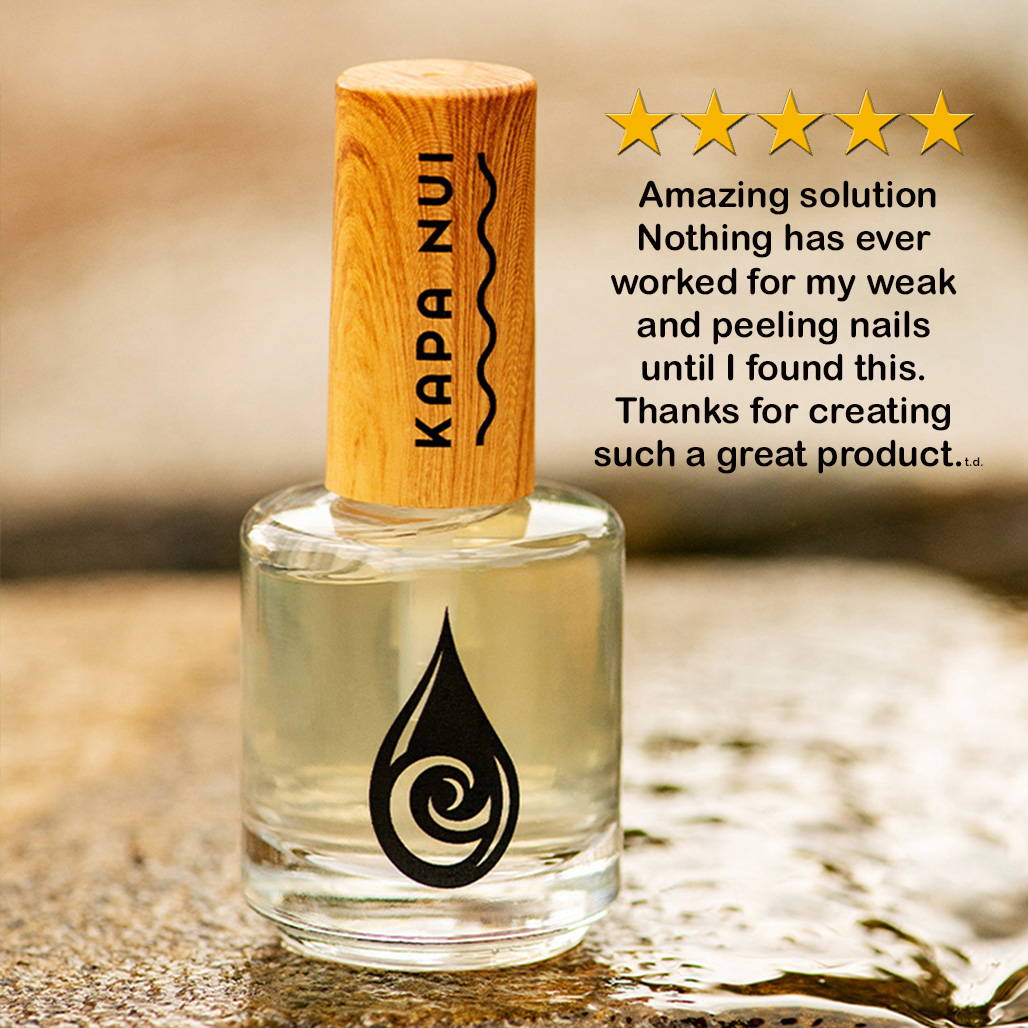 You may also like
The best polish ever
No other nail polish compares. It goes on quickly and lasts well. I came because I needed a nontoxic polish, but it performs better than any other polish I have used.
Gorgeous, Gorgeous, Gorgeous! (Color: New Moon)
It looks so sleek and sexy. It felt very light and applies so easily. I'm all about how a product feels energetically, when I receive it, and it just felt like so much love and intention was put into making this. I'm soooo excited to try the other colors! One thing, that's more personal preference, I don't like that I have to use a hair dryer. It also chips easily, but with how cute and sexy it feels and looks AND it has no harsh chemicals, I can get used to it☺️HIGHLY RECOMMEND.