Collection includes (8) items:
(3) Starter size bottles (9ml) in colors:
Kalapana - color: a deeply pitched molten mahogany with an iridescent purple flash (shimmer)
Mandarin - color: a fiercely elegant, fiery red (cream)
Lehua Blossom - color: a vivid, cool cherry (cream)
Kapa Nui Base & Top Coat (15ml)
Re-usable Remover Pads x5 (colors will vary)
Apply all steps in thin layers allowing to dry approx 60 seconds between coats:
Step 2: Apply the Color coat in 1-2 layers
Step 3: Re-apply the Base & Top Coat Sealer
Polish Color Coats: water, acrylates emulsion, mineral pigments (may contain red and/or violet lakes, ultramarine blue, and/or titanium, chromium "hydroxide", and iron oxides)
Base & To Coat: 1-methoxy-2-propanol
Polish Remover: 1,3-dioxolane
Notes: acrylates emulsion: there are no plastic microbead byproducts or PFA's "Per-and polyfluoroalky substances"

learn more
KALAPANA
This color was exceptionally difficult to name because it was so strong, unique, somewhat ephemeral and rich. We named it Kalapana in great honor of the kamaka maoli of Kalapana; some of whom are family friends and have shared their culture and strength in our children's upbringing. We honor the regal pride we have witnessed as they have claimed, cultivated and invigorated their culture through the past decades. Caring for the mothers and grandmothers of Hawai'I I have such respect for the multitude of challenges they have overcome to create a beautiful, articulate, knowledgeable generation.
MANDARIN
This color came easily as it pays homage to the Chinese presence in Hawaii. Being a fourth generation person of Chinese descent, I take pride in the perseverance, creativity and fortitude of those early immigrants that made their way from the cane fields to established presence in every profession within one generation. Mandarin is a dialect of Chinese originally of the northern regions of where my maternal family derives.
LEHUA BLOSSOM
This unique blossom of the endemic Ohia tree gives us lovely, lively rays of red from the mountain forests. These sprites of color are so deeply appreciated when on our back mountain hikes; as the ohia is now threatened by an invasive pest.
Since 1952, Kīlauea has erupted 34 times. From 1983 to 2018 eruptive activity was nearly continuous along the volcano's East Rift Zone. At the summit, a vent within Halema'uma'u hosted an active lava pond and vigorous gas plume from 2008 to 2018. In 2018, the decades-long continuous activity on the East Rift Zone ended, and the summit lava lake drained following an intrusion into, and eruption from, Kīlauea's lower East Rift Zone. A summit eruption from December 2020 to May 2021 created a lava lake within Halema'uma'u crater. Learn More
A REVOLUTIONARY NAIL CARE SYSTEM
FOR LONG LASTING GORGEOUS NAILS
Apply all steps in thin layers allowing to dry 60 seconds between coats: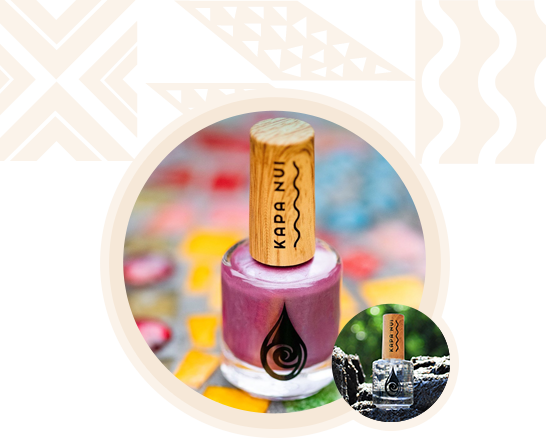 Step 2: Apply Color coat in 1-2 layers. Re apply Base & Top Coat
Finishing Coats Matte or Shine
When applied with Kapa Nui Base & Top Coat Sealer our polishes must be removed with Kapa Nui Remover which will also easily remove lacquers. Acetone will not remove our polish layers.
Say goodbye to toxic nail polish. Kapa Nui Nails' water-based polish is safe for pregnant women, children and people with cancer while delivering long wearing, chip resistance nails. Make a better choice for you and our planet.